On February 18, IWPR Tajikistan hosted Inga Sikorskaya's master class and workshop "Critical Evaluation of Information and Media Sources" as part of the Development of New Media and Digital Journalism in Central Asia project.
Students and professors of the journalism faculties, analysts, bloggers and other interested persons attended the event.
Inga Sikorskaya is the Director of the School of Peacemaking and Media Technology in Central Asia, journalist, media expert and trainer on freedom of expression and conflict-sensitive journalism.
Mechanisms and directions for critical evaluation of information, as well as methods of distinguishing the reliable and objective information were discussed during the event.
"The training was interesting and helpful to me not only as a journalist and journalism teacher, but also as a reasonable consumer of the content. New knowledge in this sphere will help selecting information wisely and stimulating the educational process," said Kamelia Samoilenko, teacher at the Journalism Faculty of the Russian-Tajik Slavonic University.
The practical exercises were an important part of the training. During the interactive session, participants passed a test on the illustration analysis developed by Inga Sikorskaya. During the assignment, participants evaluated a specific illustration without additional information, by only their own perception and first impression.
Alexandra Stolyarova, RTSU student, participated in the training to broaden her knowledge. According to her, the master class exceeded all her expectations.
"Great training, very inspiring. In just a few hours, I learned about journalism more than I did in 3 years," said Alexandra Stolyarova.
In addition, during the content analysis of media materials, participants evaluated how the proposed texts comply with the principles of reliability and objectivity, checked the statistical data presented in the materials and the sources' reliability; they also ranked the information according to the degree of its compliance with the journalism standards.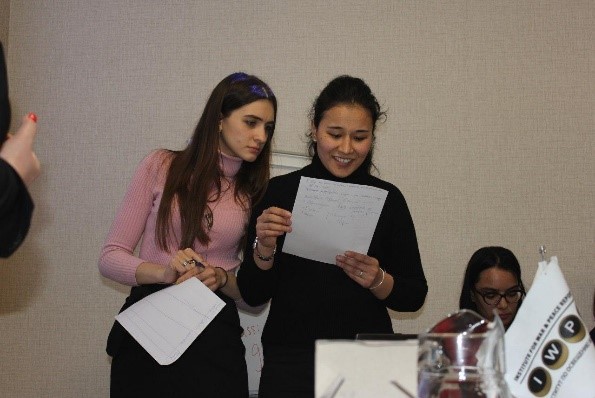 "During the media war, it becomes difficult for a person to consume information properly. We receive all kinds of information from different sources, often unknown, and become victims of fake news and misinformation. Therefore, today's consumer of information needs the skills of sorting information and critical evaluation of media content," says Khadyatullo Azimzoda, Moscow State University (MSU) student.
According to Khadyatullo Azimzoda, he gained professional experience and new skills in media literacy during the master class.
"I learned to critically evaluate information and analyze it wisely. I will use this experience in my future work," he said.
Training participants analyzed various media sources, such as www.pokitrussia.com, www.sharknews.ru, etc., compiled a table to assess these websites and highlighted the main markers.
"I think that completion of such scope of work in just one day is a huge success! To study in such a friendly environment is a pleasure! I hope to attend other trainings in the future," said Yasmina Nasimova, a graduate of the Moscow State University.